A good night's sleep is necessary for good health and optimal body function. Unfortunately, a good night's sleep isn't always easy to come by. One out of three Americans has a sleep disorder—but 95% of them still remain undiagnosed and untreated.
Some of the conditions commonly diagnosed include:
Central sleep apnea/Cheyne-Stokes respiration.
Circadian rhythm sleep disorders.
Complex sleep disorders.
Bruxism (grinding of the teeth).
Hypersomnia.
Insomnia.
Narcolepsy.
Obstructive sleep apnea.
Parasomnias (such as sleepwalking).
Restless legs syndrome.
Think you might have a sleep disorder, but unsure of the next steps? 
A quick visit to your primary care physician can determine if you would benefit from sleep study. Ask your primary care physician for a referral to the St. Francis Sleep Diagnostics Center if you think you may have a sleep disorder. Once referred by a physician, you will receive a call from the Sleep Center to schedule.
If you suspect you have a sleep disorder, your doctor may refer you to the St. Francis Sleep Diagnostics Center for an evaluation and sleep study (also called a polysomnogram). A sleep study is a specialized test that records your body movements, brain waves, blood oxygen levels, breathing patterns, muscle tone, heart rhythms, snoring levels and general behavior while you sleep. A sleep study isn't painful, and the sensors shouldn't interfere with your sleep. There will be some tape and paste applied with some sensors to ensure optimal results.
All sleep studies at our Sleep Center are conducted in a comfortable, private bedroom equipped with a Sleep Number bed, a phone and a cable TV. Each room is near a full bathroom with a shower. Each suite provides a hotel-like appeal that includes a quiet atmosphere and pleasant lighting to ensure optimal sleeping conditions. While comfortable and clean bedding is provided, you are encouraged to bring along your own pillow and reading materials if you desire. Snack muffins, granola bars, juices and yogurt are available in the morning, and TV dinners are provided as well if you need additional daytime testing, but you are encouraged to bring your own food as these may be unavailable.
Studies are reviewed by our board-certified sleep physician Salim Kathawalla, MD.
While most insurance companies provide coverage for the cost of the study and for follow-up and treatment plans, it is always important to check with your insurance provider for exact coverage levels. All sleep studies are billed as outpatient procedures through St. Francis Regional Medical Center.
Learn more about sleep studies and what to expect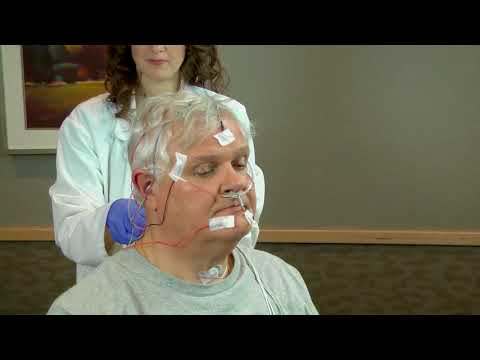 *This video is not affiliated with St. Francis.
St. Francis' Sleep Center offers home sleep tests
The St. Francis Sleep Diagnostics Center provides comprehensive clinical evaluation and treatment to people with a variety of sleep disorders. In some cases, we can diagnose specific conditions that may play a role in your sleep patterns with a take-home sleep study, called a Home Sleep Test (HST). If scheduled for an HST, the patient will pick up equipment from our Sleep Center and learn how to use it at the appointment. When ready to administer their sleep study, the patient will connect a few patches, belt, finger/wrist device and a cannula to wear during the night. When finished, a patient will return their device to the Sleep Center, where it will be interpreted by physician specializing in sleep disorders.
We also offer a courier service for HST testing. The device will be delivered and picked up at the patient's home at no additional cost. There is a scheduled call with the sleep technician prior to testing where directions and a link to a website with patient education will be provided to the patient.


Safety precautions
St. Francis facilities have taken multiple precautions to ensure the safety of our staff and patients, including enhanced cleaning protocols. Rooms, bedding and surfaces are sanitized after each patient and public areas are sanitized frequently. If requested, we can offer a no-contact home sleep study with prearranged pickup, instruction and drop off. We also offer a courier service that can deliver equipment to your home with over-the-phone instructions from one of our sleep technologists.