St. Francis Spotlight:  Athletic Trainers
Competing in high school athletics can be one way for teens to keep their hearts racing, their minds engaged and their feet moving.
Keeping an athlete healthy and playing the game they love is not only important to players and their families, its central to the daily work of athletic trainers from St. Francis Rehabilitation and Sports Medicine.
Two local high schools work with dedicated athletic trainers from St. Francis Rehabilitation and Sports Medicine for their practices and events. Ashley Qualley, MS, LAT, ATC, is the athletic trainer at Shakopee High School and Kristie Heger, LAT, ATC, is the athletic trainer at Jordan High School. Both have a passion for keeping kids in the game by treating and preventing injuries.
March is National Athletic Training Month and a time to spread awareness around the important work athletic trainers do each day. To provide insight and share their experiences, Kristie and Ashley answer questions about their roles, describe their typical day, and explain what they like most about working with student athletes.
Describe a typical game day and a typical practice day.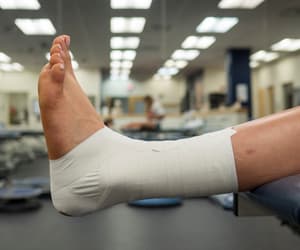 Kristie: On a practice day, I arrive to the school at the end of the school day and athletes will come in before practice to get taped, determine their status for practice via injury check-ins, discuss how their recovery is going, evaluate new injuries and do physical therapy. I usually triage these visits so that athletes that are able to practice can get to practice on time. I can have 10-30 people I need to see in one afternoon or I could have only two people I need to see. Fall and spring tend to be busier than winter because I have more sports during the fall and spring. I will usually have the athletes complete their PT during practice time as this tends to be the easiest time to meet with them, so they're not missing classes.
On a game day, I usually make sure my medical kit is filled with supplies, fill a cooler with ice if it's an outdoor event and get my splint bag to bring to the field. Before the athletes get ready for their game, they will come in to get any taping/bracing they need to play or, if needed, some rehabilitation like heat, ultrasound, stim, etc. Then, I'm on the sideline/bench during the game to tend to injuries or emergency situations. After a game, I am available for additional injury evaluations, ice applications or injury check-ins.
What advice do you have for a student with a minor injury, for example a sprain or strain? How about for a student with a significant injury, for example a concussion or broken bone?
Ashley: My advice for any injury, minor or significant, is to get it checked out by a healthcare professional and listen to their advice. Research is constantly changing when it comes to the proper way to treat injuries, and athletic trainers and other healthcare professionals are the ones keeping current on this research.
We truly want to see our athletes get back to playing their sport as quickly and safely as possible, and we have the tools to help them get there, but it does require a little extra work from the athletes as well as dedication to the healing process.
Do you have a favorite memory at your school in regards to athletics/events?
Kristie: Going to US Bank Stadium for the state football tournament was a fun experience to be a part of. To be able to watch the athletes that I have worked with all season, and sometimes for multiple years, reach this goal/accomplishment is amazing.
What do you like about treating and working with the high school students/coaches?
Ashley: I like the energy the high school athletes bring every day. They're constantly making me laugh with their stories and they definitely keep me on my toes. I've also been amazed at the maturity, respect and kindness these kids bring .The vast majority of the kids I've interacted with have been so appreciative and thankful, and have really made my job easy.
I definitely think the coaches help play a role in molding these kids into the great young adults they're becoming. Many of the coaches have core values and expectations that are central to how they coach the kids and they're setting great examples of what their athletes should strive to be.
Kristie: High school students always keep my job interesting! I enjoy getting to know the athletes, some of which I work with for all four years, so getting to see them reach their goals and accomplishments throughout those years is amazing.
What do you see as the biggest challenge for injured students?
Ashley: I think a lot of athletes don't want to let their team or coaches down by having to sit out due to injury. At the end of the day, we need to listen to our bodies and allow them to heal when they're hurting because playing while injured isn't benefitting anyone and could actually be putting more people at risk.
Kristie: I think the biggest challenge for injured athletes is having to sit on the sidelines and watch their teammates/friends get to do what they love and want to be doing.
What are the most common types of injury you see? How do you treat them?
Ashley: I would say the most common injuries we see are the dreaded "overuse" injuries which result from a combination of doing too much too soon, not having adequate strength for the task, improper warm up techniques and other factors. The great thing about these injuries is they can be prevented in the future by identifying the cause of the injury and making adjustments. For example, many track athletes struggle with medial tibial stress syndrome (shin splints) during the first few weeks of the season. For the athletes experiencing these injuries, a common theme is that the student reports less exercise/activity over the summer, or they immediately try to run at the same level of intensity they had at the end of the previous season. To address this, we recommend gradually starting activity prior to the season starting and understanding that if they haven't been exercising since the previous season, they will need to start from scratch and gradually increase their activity level rather than jumping back to where they ended last season.
Kristie: I would say the most common types of injuries I see are sprains, mostly ankle and muscle strains (pulled muscles). Treatment is a little different for each person. After an evaluation to determine the degree of the injury, we work with the athlete to determine the best course of recovery for the individual. In general I would say reduced activity, some sort of modality (for example, ice), usually some physical therapy exercises and gradual return. We always work with the athletes to help them navigate the proper treatment to help to return them in the quickest but safest way possible.
Can students or parents meet with you to discuss what to do to prevent an injury or how to treat one? How can they contact / meet with you?
Ashley: Yes! For the most part, I am at Shakopee High School every day after school, and can see athletes to discuss injury prevention or their specific injury at that time. I post an updated monthly calendar of my availability on my school Twitter account: @Sabers_AT. I'm also available via email at ashley.qualley@allina.com.
Kristie: Yes, I am at the school every day in the afternoon and athletes can come to discuss current injuries or prevention of injuries. If parents are available to accompany them during that time they are also always welcome. I will sometimes set appointments during the day; however, this can be difficult to coordinate with the students and parents' schedules. I keep a calendar of my hours for the month on my door so students can easily see when I will be at the school. I also have a google calendar through the school were athletes and parents can request appointments at specific times. I am also available to contact through my email at kristie.heger@allina.com.
Why do you enjoy working at your school?
Ashley: The people! Everyone has been so welcoming and I love getting to interact with athletes, parents, coaches and administration.
Why did you become an athletic trainer?
Ashley: I became an athletic trainer because I knew I loved learning about the human body and I loved the sports world. Athletic training allowed me to combine these two passions. I love being part of the healthcare community, as well as part of the sports community.
Kristie: As a swimmer in high school, I had shoulder problems that required me to seek the help of our school's athletic trainer. I thought it was interesting how they were able to evaluate my injury, tell me what was wrong and then help me to get back to competing. I loved science classes and I knew I wanted to help people, so I shadowed our athletic trainer and thought "wow what a cool job."

Oftentimes, you are a student's first experience with physical therapy, rehabilitation and athletic training. What path does a someone take to become an athletic trainer?
Ashley: Athletic Training is currently in transition to have a minimum requirement of a Master's degree. To become an athletic trainer, I completed my four year undergraduate degree to get my Bachelor of Science in Exercise and Sport Science, and then attended grad school for two years to get my Master of Science in Athletic Training. Some programs offer a 3+2 program, meaning you can get your undergrad Bachelor degree in three years and then your Master's in Athletic Training in two years. Going that route would result in five years of schooling beyond high school, versus the six years that I did.
Once you graduate with your Athletic Training degree, you have to take and pass the Board of Certification examination which earns you your "ATC" credential. Minnesota is a state that licenses Athletic Trainers so in addition to passing the Board exam, you also have to become licensed by the MN Board of Medical Practice to get your "LAT" credential. Different states have different licensing/registration requirements so depending on where you work, you may or may not need to be a LAT.

Learn more about St. Francis Rehabilitation and Sports Medicine here.